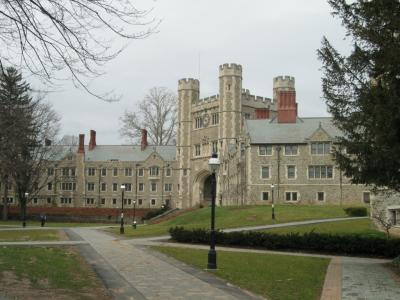 It is always
freshing
to encounter a friend who you haven't seen for a long time, even the friend is acutally just online and what you've seen is just his blog.
I found Ellos & Ted and Youlun's blog and tried to keep reading it. Looking at their photos reminds me the trip to NYC and Princeton long time ago. Suddenly, every detail: the sound of train, the flyer of B&H in the gust, the ever-glowing broadway and the sweet warm conversation in Phily.
Youlun said that people treated squirill like mices in Princeton when I told him I was visited by a cutie on the first morning I woke up in the campus. It was quiet, not a bit like Oakland, Pittsburgh where tons of students party all the time. He was not in the good mood then, and was wrapping up for his move to Illinois.
It was cold around New Year's day and the first feeling when I stepped out of Penn Station was the relentless wind in Manhattan. I rushed into
B&H
to buy a digital camera which I am still using now. Youlun said he'd never spend that amount of money except in the car, but I had no buyer's remorse and took full advantage of the new camera which I didn't know how to use and ventured in the grid-shaped Mahattan streets.
There was one day I came back from Mahattan and tried to call Youlun's cell. Unfortunately his cell didn't work well in his dorm building. Everyone left the station and it was 10PM already. Then the next train came, and the next next. There was a taxi but I didn't know the destination. Suddenly all the fanfare, the glamour of New York City retreated in the dark sky and only wind whistled in the rural Princeton. Everything I enjoyed during the day disappeared. I realized that I was not a rural person, and I would rather take a train back to Mahattan if I were destined to stay up all night.
Fortunately Youlun got my message. Later, when he drove his car westward, he'd planned to stop at Pittsburgh for rest. But he changed his mind and I didn't get the chance of hosting him.
Now Youlun is in California, with no more corn field. Maybe as a person from Shanghai, he is not unlike me.